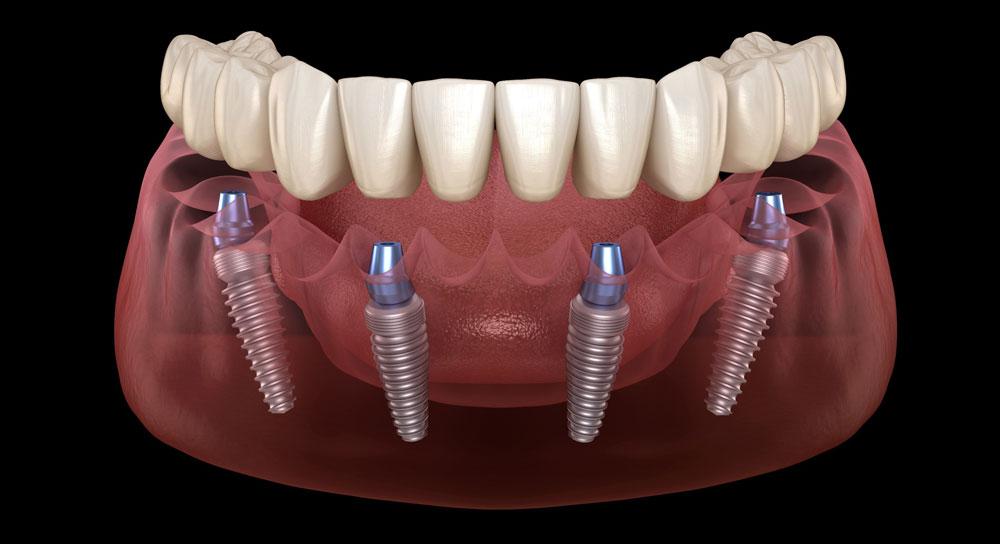 A full mouth dental implants are more realistic and comfortable when compared to other methods that will replace all your missing teeth. This is the closest dental treatment you can get to recover your natural teeth on elements like function, appearance and comfortability.
Normally, 3 to 4 implants are cemented in the jaw, and the implants are left for a certain period of time (like 2 to 6 months) to bond well with the bone. The number of cylindrical implants depends on the gum and bone strength of a patient. Full mouth dental implants are done in a way that it looks and acts like healthy natural teeth.
Procedure of All-On-4 / All-On-6:
Starting with a patient's dental examination results, our dentists draw up the best treatment available for your problems. However, in case of a complete or full mouth implant, our dentists does a thorough examination on the condition of a patient's gum and the jawbone strength. A frail gum and bone of a patient cannot hold the cylindrical implants and could cause bigger damage in the future.
After successful results, 3 to 4 implants in respective to the patient's capacity, the implants are surgically inserted in the jawbone. In the wake of two to six months, the implants bond well with the patient's bone and are ready to hold the bridge or replacement teeth that are known as abutments. Lastly, all our patients are provided with detailed treatment plans and post-surgery checkups required.