Dental Implants - 3D Guided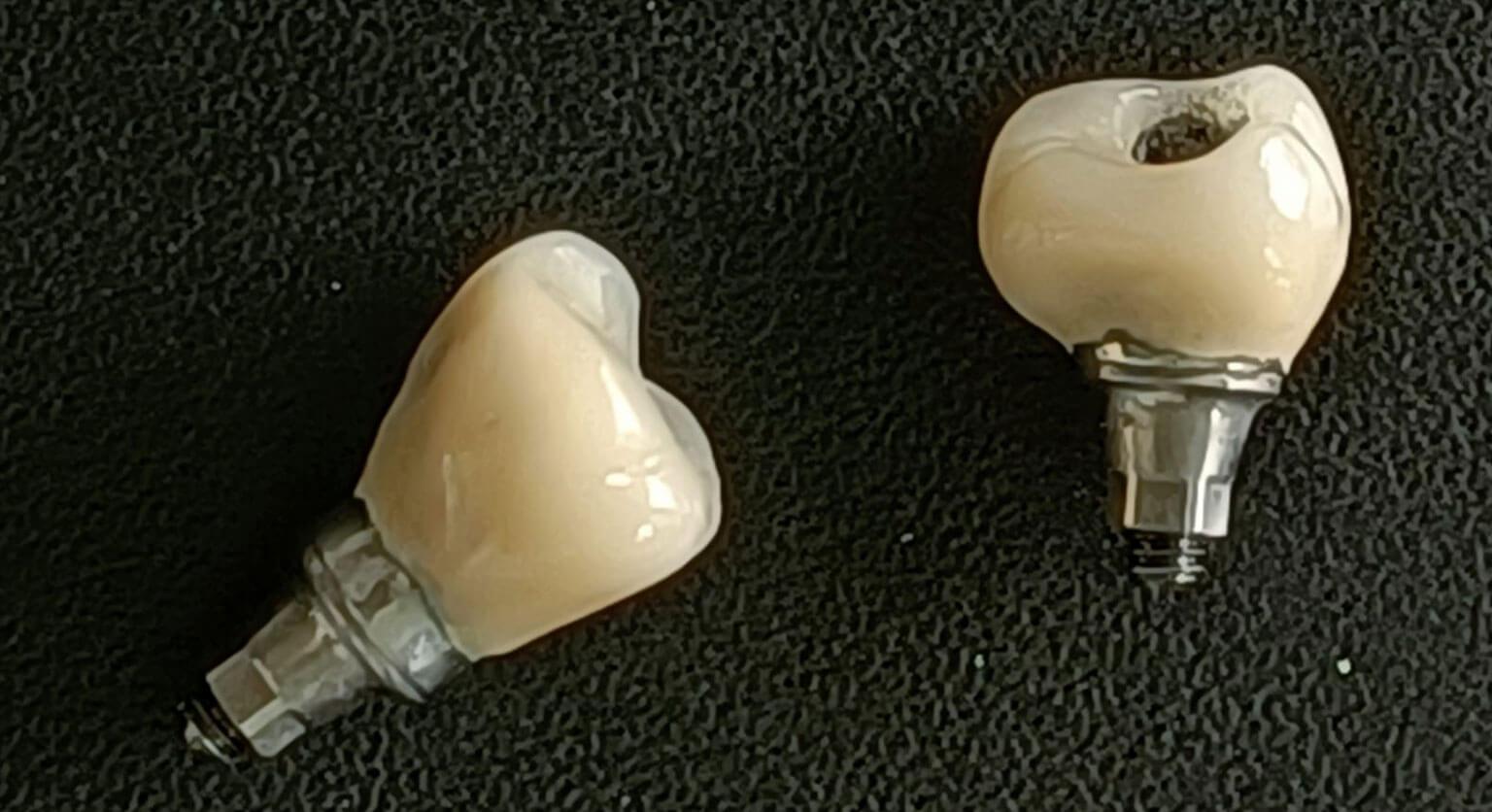 What is a Dental Implant?
A Dental Implant is an artificial tooth root made of titanium which looks like a screw or post and is both strong and light. The implant is surgically inserted into the jaw to support a replacement tooth – Dental crown, bridge and removable or fixed dentures.
Over time, the jawbone fuses to the Dental implant. Implants are a long-term solution for missing teeth that feel and act as a natural tooth!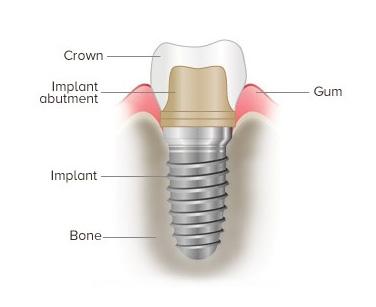 Dental implants consist of three components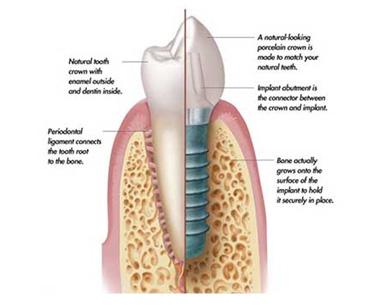 Cross section of tooth and an implant together to visualize what a Dental implant can provide
Benefits of Dental Implants
What is the process of Dental Implants?
Step 2. IMPLANT PLACEMENT
Step 3. TEMPORARY RESTORATION
Step 5. ABUTMENT PLACEMENT
3d Guided Implant Surgery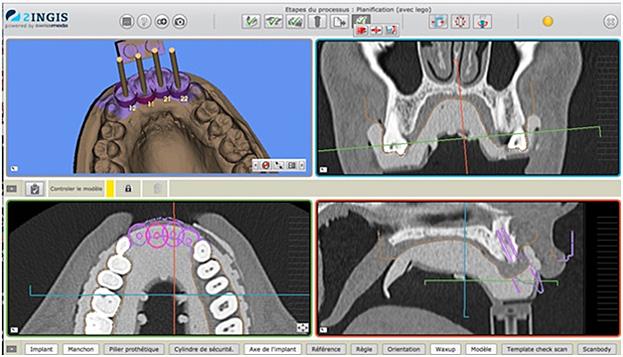 3d Guided Implant Surgery
Insertion of Dental implants via Computer Guided Dental Implants technique helps in improving the precision of the procedure thus making 3D Guided Implants surgery a more preferred choice.
In this process, the planning of the implant is designed on a specific 3D guided software that uses three dimensional computer tomogramm (CT). The 3D software helps in guiding the Dental implant virtually according to the most suitable jaw view. Once this data is transferred to a 3D printed plastic device which is called the 3D surgical guide the insertion and implant process becomes highly precise.
The benefits of the 3D guided implant surgery:
The entire 3D Dental implant surgery takes no longer than two weeks. It includes the CT consultation followed by Dental impressions. Once the 3D software completes the virtual plan and all information are transferred to the 3D surgical guide then the patient can experience a less painful implant process. It is with the 3D Dental implant procedure that makes the entire experience more comfortable with faster recovery. The 3D guided process is quicker, doesn't involve unnecessary bigger incisions and thus has lesser bleeding and significantly less pain.
If you're looking for dental implants in Coimbatore, your search for reliable and skilled dental implants Specialist ends at Mahima Dental. With numerous options available, finding affordable dental implants near you has never been easier. We offers a wide range of dental clinics with implant dental specialists who are dedicated to providing top-notch care and expertise in Coimbatore. Whether you need a single tooth implant or full mouth dental implants, you can trust the experienced implant dental specialists in Coimbatore to deliver exceptional results. We use the latest technology and advanced techniques to ensure the success and longevity of your dental implants. Don't hesitate to reach out to our dental implant specialists today to restore your smile and regain your confidence.
Why Dental Implants retained Dentures are better than regular Dentures?
A Permanent, Durable Solution
– Dental implants are considered a permanent solution and are secure, durable & built to last a lifetime.
-Statistics show that Dental implants have a 98% success rate.
-The implant is fused to the jawbone so that it is permanently there, just like a natural tooth.
-Dentures are removable devices and are not permanent. They can warp under hot water or break.
-Dentures may need to be adjusted, repaired, or replaced within about 6 to 7 years.
2. Optimal Function and Performance
-Both Dental implants and dentures function just like normal teeth.
-However, dentures may slip or affect speech, which can be embarrassing or uncomfortable.
-Dental implants on the other hand, are associated with better chewing and speaking ability than dentures because they are embedded in the jaw like normal teeth.
3. Better Hygiene
-Dental implants can be brushed and flossed normally.
-Dentures, however, must be removed for special cleaning. Not only is this inconvenient & cumbersome, but it leaves more margin for error in cleaning.
-Since Dental implants require no special cleaning routine, they are a better option for oral hygiene maintenance.
4. Taste Sensation
– As dentures cover the palate, the taste sensation is compromised to an extent.
-Dental implants helps to eat and chew anything you like, also avoiding any embarrassments caused by use of dentures.
5. Prevent Bone Loss and Gum Erosion
-Dentures can cause the gums to erode and do not offer protection against jawbone loss. This can ultimately lead to your jawbone warping in shape, which will distort and prematurely age your facial aesthetics.
-Dental implants are fused to the jawbone, which prevents bone loss and deterioration of both the jawbone and the gums. You can retain your natural jaw shape and protect your smile with Dental implants.
6) A More Comfortable Solution
-Dental implants provide a more comfortable experience. They just feel like natural teeth. Most people don't even notice the change once they are inserted.
-Dentures, on the other hand, can irritate the gums and cause mouth sores from the friction.
What is digital guided implant surgery?
Digital guided implant surgery enables to plan your Dental implant procedure virtually on a computer before your surgery. A digital scan is done instead of taking gooey impressions thus providing added comfort and convenience. Guided Dental implant surgery is performed based on a complete digital surgical plan combining the information from a 3D cone beam computed tomography scan and a virtual stimulation. The aim is to achieve predictable results with enhanced precision while improving your overall experience.
What are the benefits of digital guided implant surgery?
LESS PAIN & NO INCISION SURGERY: As this treatment requires no incision, patients with medical conditions such as diabetes or multiple missing teeth can also get this surgery. Also, this leads to reduced post-operative swelling or discomfort.
MORE SECURE & SAFER: As a surgical guide is created digitally for the procedure, it allows implants to be placed accurately in pre-determined locations without the risk of nerve damage or incorrect Dental implant procedure.
LESSER TREATMENT TIME: Guided Dental implant surgery is typically performed in much less time than previous methods of traditional Dental implant surgery.
No more gooey impressions - Intraoral Scanner!
Frequently asked Questions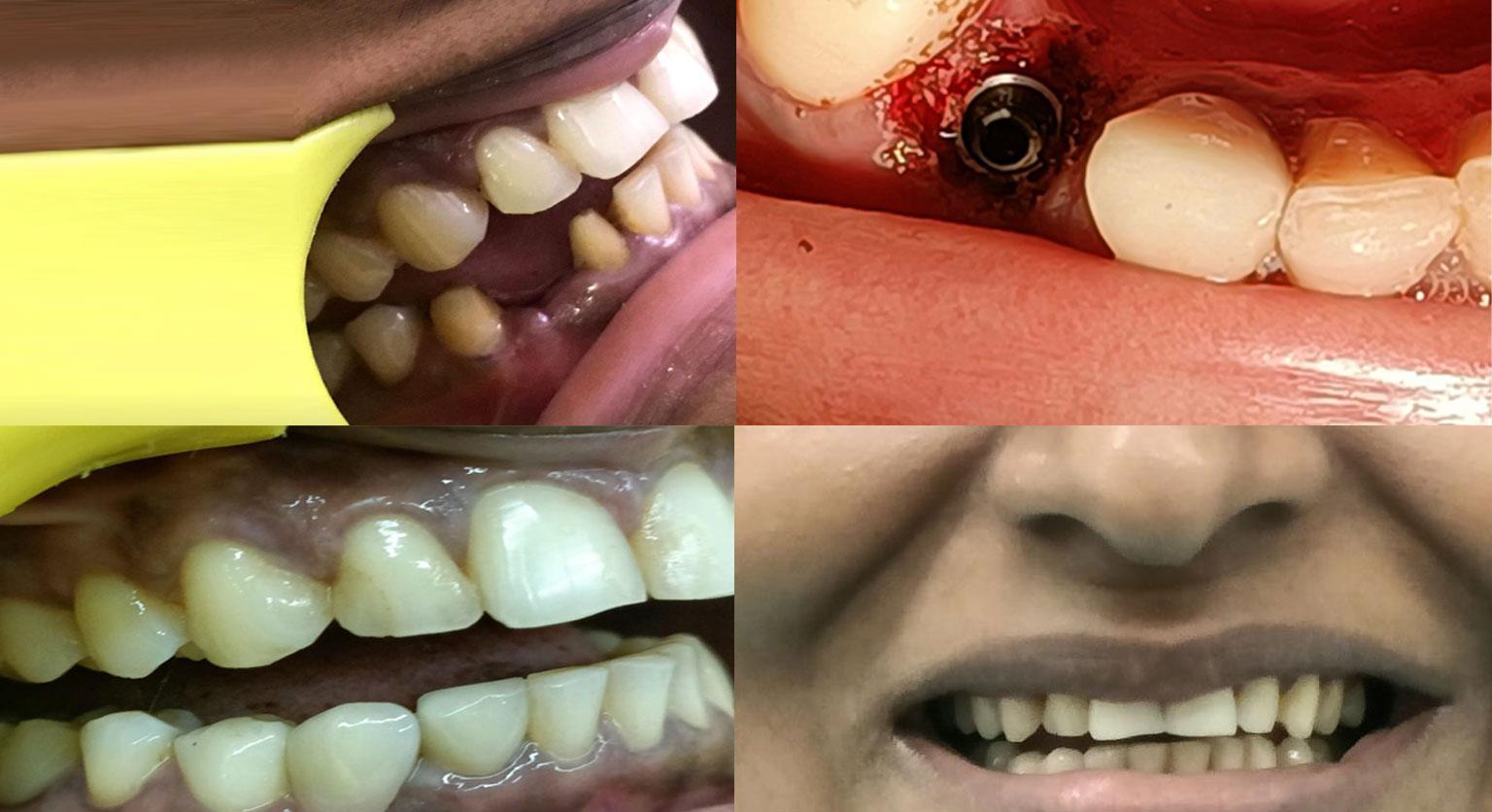 Single Tooth Implant
In case of single tooth damage or missing, a single tooth implant can be performed. A single tooth implant is nothing but a….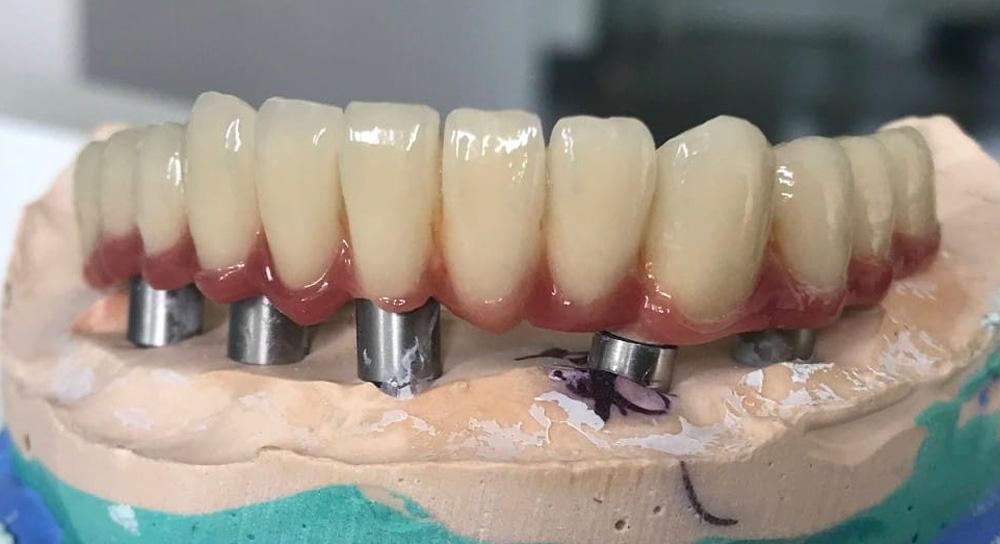 Multiple Teeth Implants
Multi teeth implants are quite similar to single tooth implant with few variations like a number of tooth that is to be implanted….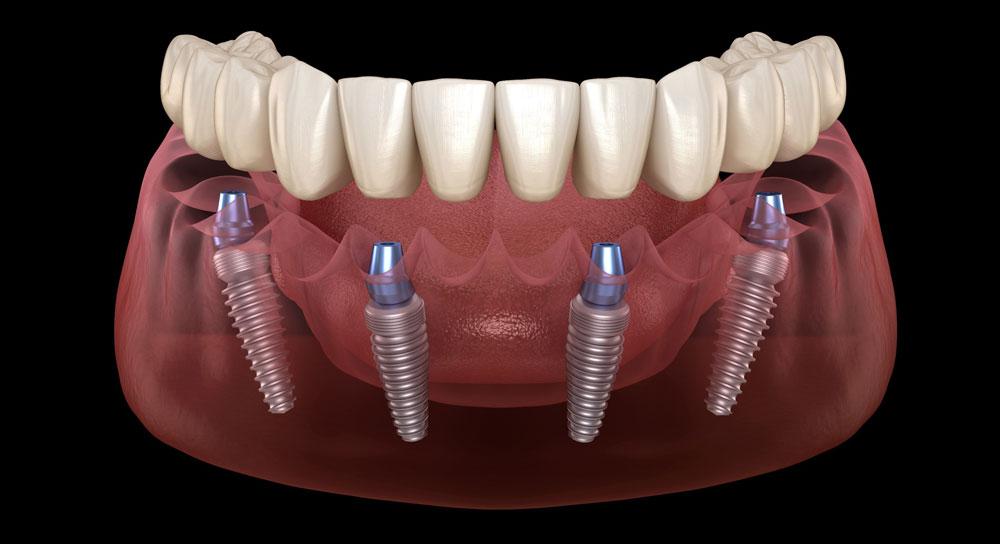 All-On-4 / All-On-6
In case of single tooth damage or missing, a single tooth implant can be performed. A single tooth implant is nothing but a replacement….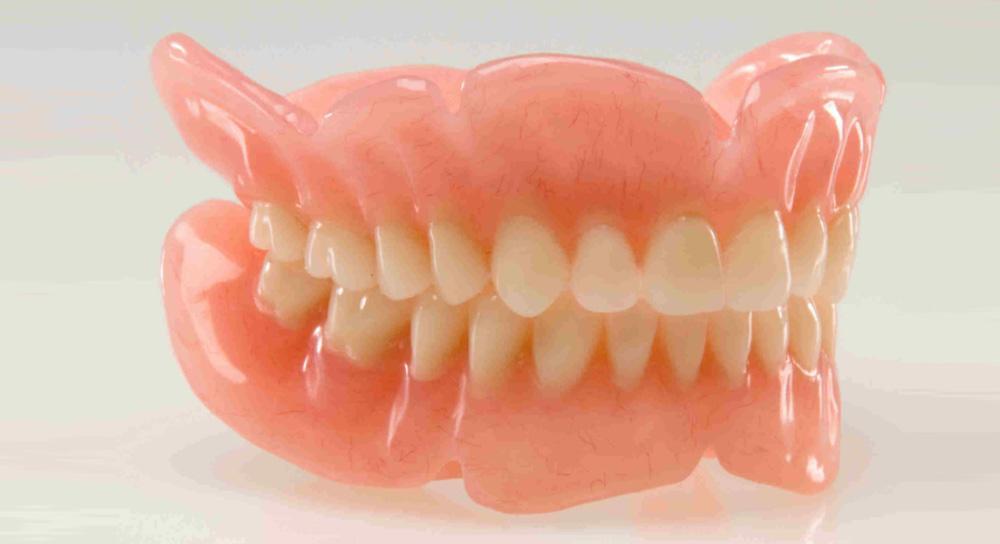 Dentures
A denture is an artificial teeth and gums made exactly to one's measured size and are replaced in the place….